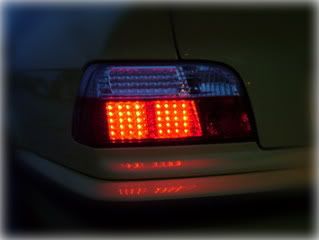 E36 LED Tail Lights
Get the clean European look of clear lenses AND get an upgrade to LED at the same time!!
Dont be fooled by the kits that other online vendors are selling... this kit is COMPLETELY UNIQUE.
This 4 piece, plug and play, LED taillight kit will give you the updated, hi-tech look and style of the newest BMW coupes & M3s
CLASS LEADING FEATURES:
DOT APPROVED!
LED Tail Lights
Amber Blinkers/Red Brake (individually replaceable LED)
1 year warranty
No Error Messages
Complete Plug and Play
LED Turn Signal AND LED Brake Lights
No Adaptive Function at this time.
ENGINEERING DETAIL:
OEM Fit and Finish
10-30 minute complete install using standard hand tools
Requires no LCM
Pre-installed Resistors for proper resistance readings by computer control module
No dealer reflash required.
BENEFITS:
Lower power consumption when compared to halogen
Updated Looks
Quicker Illumination for Increased Driver Awareness
Improved Longevity (no need to replace bulbs)

---
---
|

|

|

Copyright © 2015 BavToys.com